There's no question that podcasts have made a major leap in recent years, from a niche format that evolved from the iPod era, into the hottest new full-blown mainstream media. But what's powering Spotify's incredible speed and confidence in the sector?
Spotify is the world's biggest music streaming platform as measured by numbers of subscribers. Established in 2008 as a small start-up in Sweden, it now dominates the way we consume music in the 21st century. But it is so much more than just a music platform. It aims to be the largest audio platform in the world, and position itself as the next major ad network.
Spotify has spent approximately US$600 million in podcast acquisitions in the past 18 months, and they recognise podcasting as a major opportunity to steal away traditional advertising dollars from sources like radio.
Spotify is close to becoming a full-blown podcast ad network
The podcasting industry is still largely primitive compared to web ad technology when it comes to personalisation. Web advertising that knows almost everything about a specific user — and the reason is access to deep data.
Spotify's access to the powerful and deep listening habits of podcast users opens the doors to a huge amount of deeply personalised first-party data. And Spotify is using its huge amounts of user data to run targeted ads inside its exclusive podcasts, and potentially beyond.
In short, Spotify is close to becoming a full-blown podcast ad network.
With Streaming Ad Insertion, Spotify inserts ads into its shows in real-time, based on what it knows about its users — where they're located, what type of device they use, and their age, alongside huge levels of first-party personalisation data about listening behaviours, tastes, hobbies, interests and other things — all from a privacy-friendly walled garden of first-party data that is incredibly difficult to compete against at this scale.
It also knows more about its users than most other podcast services, because of its knowledge about users' music taste. It also primarily streams podcasts instead of relying on downloads, a major difference in how podcasting has previously worked that allows them to insert ads as people listen — keep track of what they're listening to and when.
And unlike with its music offer, premium users will still hear podcast ads — something that doesn't happen on YouTube Premium, its closest rival when it comes to monetised media streaming challengers.
When we combine the impact of deep access to listening habits with the transformation of media consumption among younger buyers, the true power of Spotify's move is quickly apparent.
Spotify's user experience is its superpower
Of course there are other ways to listen to podcasts. There's YouTube, Apple Podcasts, and thousands of other independent apps that do it well.
But what's always made Spotify shine above all other services in the music streaming wars of the past was always its user experience — always a fluid, rich and elegant experience backed by powerful algorithms, and incredibly quick UI and powerful search that quickly sucked and retained users into its ecosystem.
As someone who switched to Apple Music and quickly back to Spotify following a harrowing experience with its interface, I can certainly speak from experience.
Spotify's secret weapon is its experience. And in the podcast arms race for the next big mainstream media format, Spotify has the arsenal to attract, convert and retain younger, more experience-led audiences with the same ferocity and elegance as it did during its music-streaming inception days.
Combined with its powerful access to data and ad-insertion capabilities, it's difficult to see a realistic challenger to their inevitable coronation.
Spotify is about music…. and learning
Podcasting is big, and growing — in 2020, a survey on podcast consumption revealed that 37 percent of U.S. adults had listened to a podcast within the last month, a figure which has more than tripled over the past decade.
Podcasts are not just a source of inspiration or a way to escape from the grind,  they're also an opportunity to learn.
In a survey held in early 2019, the majority of respondents said that their main reason for listening to podcasts was to learn new things.  From philosophy to history, travel, and business, podcasting is now a complex and powerful habit in daily life.
Weekly podcast consumption has also sharply increased, and some of the world's leading podcast publishers achieve millions of unique streams and downloads per month.
Why does this matter?
It's the next big battleground for media companies, and their advertisers — and it's about to open the doors to something bigger and more complex than any other media format before it.
Spotify is betting big on podcasts
Spotify's recent acquisition of the Joe Rogan Show follows hot on the heels of other high-profile additions to their rapidly growing podcast family, such as Bill Simmons's podcasting company, the Ringer, earlier this year.
And according to The Wall Street Journal, Rogan's move could amount to more than $100 million.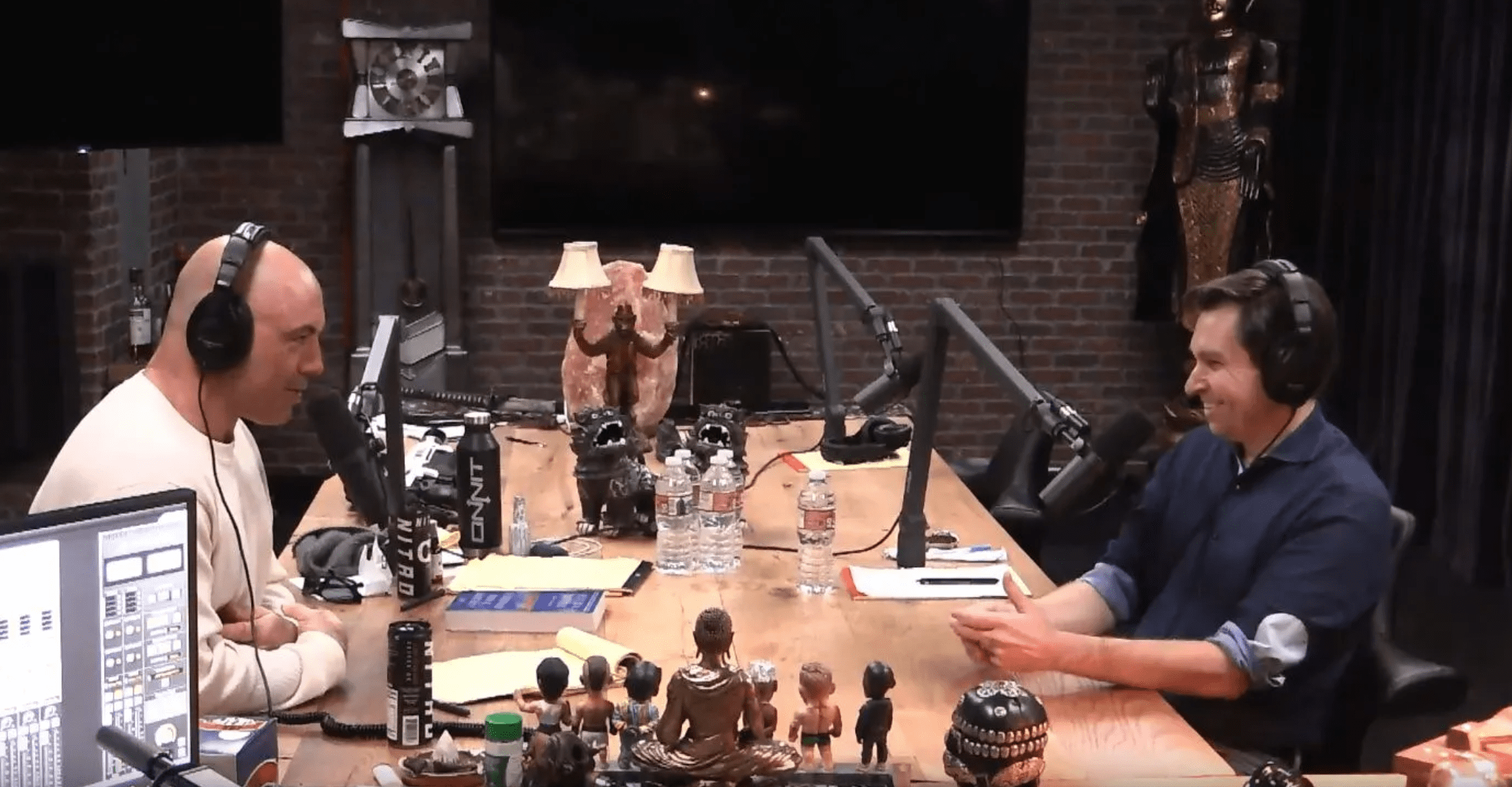 The timing of podcasting (and indeed Joe Rogan's) mercurial rise and the Old Guard's disintegration is not a coincidence.
The Rogan deal comes as other mainstream media continues to fall apart — and pandemic has accelerated their downfall, cutting the legs from under many long-established publications who have failed to adapt to emerging formats and consumption habits of their consumers.
But money is not the only reason this deal matters.
Podcasting gives Spotify the agility and depth that could see it become one of the next major media powerhouses in the industry — going well beyond its roots as a disruptive and ambitious music streaming service, then powered by what at times were poorly executed audio ads on its free tier — ads so poor that they forced you into subscribing just to avoid their quality.
Podcasts are spearheading the world-changing transformation of media consumption
The success of podcasting signals several profound shifts: a shift in what people want to talk about, how they want to hear it, and who they want to hear it from. And most importantly — when.
If we want to understand why podcasting is booming, we first need to appreciate this world-changing, transformation in how we consume information.
Reading the news or catching up on our favourite sports is no longer the immersive experience of the past, where families were kept captive in front of the TV or staring at the pages of a newspaper.  It's now a fragmented tangle of interactions through the day, usually done on a small screen and with little focus.
All of this magic happens asynchronously. One of the things about podcasts in general is that it's really easy to listen to while you do other stuff. Cooking, jogging, driving or even working.
So what opportunities does Spotify offer your business?
Podcasting is about to become the next major mainstream media powerhouse — and Spotify is likely to be its monarch.
It's definitely a good time to invest in podcast ads, reach younger audiences where little else can penetrate with such accuracy and frequrncy — and become part of the biggest conversation in digital.
Have you found this article useful?
Get Team Hallam's expert advice and guidance straight to your inbox once a week.
---
If you need help with your Strategy don't hesitate to contact us.